Hi.
I'm Noel Anderton, garden designer, project manager and managing director at Landscape One Design.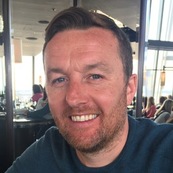 As a child I had a love of nature and the outdoors and during schooling, developed a desire to become an architect through design studies. The architecture degree never materialised, however my interest in the outdoors never waned, and through my early years as a landscape gardener I realised I was able to rekindle a keen interest in design alongside my love of building gardens.
I went onto study garden design at University of Greenwich, graduating with a BA (Hons) in 2004. I have since gone on to design and build many gardens, focusing on contemporary styling.
My personal, meticulous approach to garden design and construction allows me to interpret your wishes, apply good design, and create gardens borne out of collaboration. I enjoy the process of initial discussion, learning about you and your plans and producing individually tailored gardens that last far beyond the point your new garden is handed over to you.
To find about how we can create a garden just for you, get in touch on 0800 848 8053, at gardens@landscapeone.co.uk or via the contacts page.